Tap the touch screen once to awaken your device and get a glance at the Air Score, fan mode and current status of your Air Pro.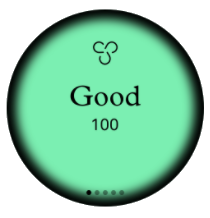 Home screen
See your overall Air Score and air quality rating, from Good (green) to Very Bad (purple). Your fan-speed mode is displayed at the top. Access the fan-speed menu by swiping or tapping the top of the screen. Access the sensor reading menu by tapping anywhere else on the screen.


A WiFi symbol indicates connectivity issues.


A filter symbol indicates that your PECO-Filter is nearly used up (orange) or needs to be replaced (red).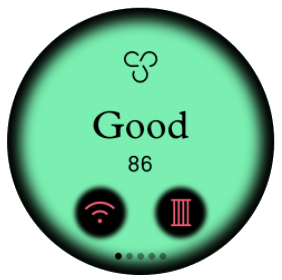 Swipe left and right to switch between the five screens: Home, Sensor Levels, Fan Modes, PECO-Filter Status, and Settings.
Sensor Levels
See the concentration of three particulate levels (PM10, PM2.5, and PM1.0), chemicals (VOCs), relative humidity (RH) and carbon dioxide (CO2) detected by Air Pro's advanced sensors. As the sensor samples the air, it reports the concentration levels it detects and displays a four-tiered scale, from Good (green) to Very bad (purple).
Fan modes
Navigate between Auto Protect (Standard or Quiet) and manual modes (fan speeds 1-6).


Auto Protect – Standard
Auto Protect uses the PM sensor to measure airborne particulate matter levels and regulate fan speed for optimal air purification.


Auto Protect – Quiet
This setting also uses the PM sensor and regulates the fan, but will not run at high fan speeds, staying quiet while still maintaining effectiveness. Please note: in this mode, rooms with detected levels of particles will typically take longer to clean compared to standard Auto Protect mode.

Manual Lets you cycle manually between the six fan speeds, from 1 (Low) to 6 (Boost).

PECO-Filter status
Track the status of your PECO-Filter.
Always use certified Molekule PECO-Filters. If the authenticity of the filter can't be verified, the device will not start and an error message will be displayed.
Good
There's no need to replace your PECO-Filter.
Replace soon
Your PECO-Filter is nearing recommended replacement time.
Replace
Your PECO-Filter has reached recommended six month replacement time. Replace the existing one.
Replace now
Your PECO-Filter should be replaced immediately because it has exceeded its recommended replacement time. The device will repeatedly go on standby after extended use until the PECO-Filter is replaced.
Settings
Standby
Powers down the fan and UV lights. Wake by tapping the screen.
Device details
Access the device name, serial number, and firmware version.
Languages
Select the default language for the display. Choose between English, Chinese, and Korean.
Reset
Erase all of the previously configured settings of your Air Pro, such as WiFi networks and last-used fan speed. If you had previously turned off the WiFi signal, it will turn back on.
Disable WiFi
You can disable and re-enable WiFi here. This will prevent you from controlling your device with the mobile app.